[Story] A National's War Story
21-02-2010, 04:07 AM |
Post: #1
DogieDude1234
This is the part 1 of a story I made up from the view point of my soldier class hero, DogieDude1234. I used the names of some of my friends' heroes in the plot. Feedback would be greatly appreciated, good or bad, and if you want to be in future Parts. Note: When family relations are mentioned, the heroes were made by the same player. Yes, this is a big read, but I think you'll enjoy it.
So there we were, sitting down for our evening briefing in the National Camp. The Commander was explaining the problems our pilots were having with night raids over the Royal bases and what he was planning to do to fix them. From what we could tell, this was just going to be another normal night.
Then the Commander got to the next item on the agenda. He said that our forces were losing strongholds that we had captured weeks earlier, places like Buccaneer Bay and Victory Village. Anyone in the room who wasn't paying attention before was suddenly all-ears. He explained that the tide of the war (which was currently in our favor) could be changed in favor of the Royals if our forces could not hold off the Royal onslaught. We were miles and miles away from those places, so we knew that we weren't eligible to aide in the defense, but we could only assume that something else was in store for us. We were right.
The Commander continued on about a place that was being dubbed Riverside Rush. He told us that many valuable supplies were stored there and that if we could reach it, we could hold out against the attack that was inevitably going to reach us sometime, either sooner or later. The attack plan was for our nightly bombing raids to divert to Riverside Rush and bomb any military installations. After a few nights, we were to move in to finish off any remaining Royal forces in the town and secure the supplies.
The Commander dismissed the briefing and while the bomber pilots rushed to their planes, we, the Commandos, Gunners, and Soldiers settled in at our barracks. I don't think anyone slept well that night. The next morning, the bombers returned from what seemed to be a successful mission.
This same pattern continued for around five more days until, one evening, we were called back in for a final briefing. Last details were given, we checked our gear, and headed out. Right as I walked out the door, I heard the familiar sound of a rocket screaming through the air. My fellow Nationals and I hit the ground just in time to see the pilots' barracks go up in a firey explosion. We were under attack!
Instinctively, I jumped to my feet and headed for a plane to try and fill in for our now- dead pilots. I figured I would be flying solo when two familiar faces, mjprotege, a gunner; and Hineran, a commando sat on the wings of my plane. (We had all met in basic training and had became fast friends) Looking around, I saw Royal Planes above me and Royal tanks and jeeps in front of me, but still a distance off. It was then clear this was going to be a Sunset Showdown.
As I started to take off, I saw yet another friend, D0N'TSH00TM3, sitting at an AA gun. I knew he would have my back. As I gained altitude, I sighted a Royal plane and opened fire. He went down and I never saw any parachutes. Although this wasn't my first kill, I still had never gotten over the feeling of it.
Instead of jumping right into the fight, I flew over enemy lines to drop Hineran off. As he jumped, I could see that he had causing mayhem for the Royals on his mind. I then looked over at mjprotege. I could tell he was ready to jump into the fight on the ground. As I turned around, a Royal gunner opened fire on my plane. Bullets struck both me and mjprotege, but I managed to get out of range before significant damage could be done. mjprotege used his combat medicine, healing us both completely and jumped off. I was solo.
A few seconds later I glanced down at the battlefield to see a horrific sight. So many Royals and Nationals alike were already dead, mostly near
---
I'm currently rather inactive on the forum. If you'd like to reach me, you can find me on: XFire: dogiedude1234; Steam: DogieDude; Skype: Well, you'll have to PM me for this one.
I may or may not be a member of ACE.
21-02-2010, 04:09 AM |
Post: #2
DogieDude1234
the church in the small settlement in the middle of the battlefield. Then something else caught my eye.
mjprotege was surrounded by 5- 6 Royals and I could tell he wasn't going to last much longer. What's worse, he used his combat medicine before jumping off the plane! My first thought was to rescue him, but then I noticed something else. D0N'TSH00TM3 was lying still near what used to be an AA gun. Royals were descending on his location fast, so I decided to sacrifice one friend to save another, choosing D0N'TSH00TM3 due to the fact that he had more experience, and that was what we needed at the moment.
I knew guns wouldn't cut it, so I decided to try something that I had only heard rumors of and that only the most experienced pilot could even try.... The Wingclip. I pointed my nose down and gained speed, bracing for impact when I saw something even scarier than what I had seen so far. Was that a Royal shooting at other Royals?!?!?!
Without thinking, I pulled up and got set to land. My wheels hit the ground with a thud, and I jumped up out of my plane, rushing to the aide of my friend, when I noticed that he seemingly wasn't in danger anymore. He was sitting up next to a Royal who was kneeling down. The two were surrounded by dead Royals.
D0N'TSH00TM3 explained that the Royal was his brother, G3RARD0, who had been kidnapped by the Royals and forced into service. Apparently, G3RARD0 hated the Royals and wanted them to pay for what they had done to him and umm, their family? So, my eyes hadn't lied to me, I
HAD
just seen a Royal break the honor code by shooting his teammates, and technically I was breaking it at the moment for not shooting a Royal on sight.
After a few minutes D0N'TSH00TM3 was fully healed and we made our way back to my plane. I started it up and we were gone. Luckily, the battle was seemingly being won by the Nationals. My focus this time was on finishing what air support the royals had left, so D0N'TSH00TM3, G3RARD0, and I opened fire and didn't stop until every single Royal plane was either destroyed or sitting damaged and abandoned on the ground. The fight on the ground was fierce, but we had made progress past the town and were into the field in front of the Royals' starting position. We made one last strafing run at the Royals' postion before landing.
In order to avoid being shot on sight by my fellow Nationals, G3RARD0 stayed flying the plane and D0N'TSH00TM3 stayed with him to watch over him when they landed. My attention then turned to the fight on the ground. We were advancing, but it was slow going. Just when I thought the battle was never going to end, the Royals fell back to put up one final Defense.
They had the high ground as we started the final push to victory, but we never gave up. Our tanks fired furiously, and our soldiers did the same. Men were cheering and dying all around me all at the same time that I lost track of my objective and time went into a blur. I think that's what happened to all of us near the end, but it worked.
We broke open a gap in their lines and we flooded through it so quickly that no one on either side had time to think. It was a victory for the Nationals at this, this Sunset Showdown as it was to be called. In the midst of the cheering I met up with all three of my friends, including mjprotege, who was miraculously saved by yes, Hineran. (and about twenty others of course) However, my newest friend was gone.
D0N'TSH00TM3 explained that before he had time to say anything, G3RARD0 had been taken away for interrogation. We knew that the high National officers had a harsh policy towards Royals, so a rescue operation was in order.
So, even in victory, the four of us knew that even more challenges were ahead. Both from the enemy, and from our own National army.
Thanks for reading!
Coming Soon: (If feedback is reasonably good) A National's War Story Part 2
---
I'm currently rather inactive on the forum. If you'd like to reach me, you can find me on: XFire: dogiedude1234; Steam: DogieDude; Skype: Well, you'll have to PM me for this one.
I may or may not be a member of ACE.
21-02-2010, 09:56 AM |
Post: #3
nsda
great story 8 out of ten
i love to be in it
name nsdatac
class. commando
army.nationals
clothes. normal commando clothing
personally. funny, desnt talk that much, likes to work alone
just wondering is this your first bf story?
---
21-02-2010, 09:31 PM |
Post: #4
DogieDude1234
ya, it is my first one. I'm still trying to work out the plot line of part 2, but when I get around to writing it, I'll put u in it. thanks for the approval
---
I'm currently rather inactive on the forum. If you'd like to reach me, you can find me on: XFire: dogiedude1234; Steam: DogieDude; Skype: Well, you'll have to PM me for this one.
I may or may not be a member of ACE.
22-02-2010, 06:32 AM |
Post: #5
nsda
thats okay its really good
---
24-02-2010, 09:15 PM |
Post: #6
nsda
still waiting i hope this story isnt dead
---
24-02-2010, 10:22 PM |
Post: #7
DogieDude1234
it's not dead, it might take few days for me to get a good plot line worked out, but trust me, I'm still working on it. Hopefully I'll have it done this weekend.
---
I'm currently rather inactive on the forum. If you'd like to reach me, you can find me on: XFire: dogiedude1234; Steam: DogieDude; Skype: Well, you'll have to PM me for this one.
I may or may not be a member of ACE.
24-02-2010, 10:29 PM |
Post: #8
Katorin
i like the suspense keep it up
25-02-2010, 08:47 AM |
Post: #9
nsda
ok then
---
25-02-2010, 10:38 PM |
Post: #10
the7llamas
Good story cant wait for the rest
---
25-02-2010, 11:38 PM |
Post: #11
DePijnMachine
Very nicely written. I liked the first page best, particularly the parts "i don't think anyone slept" and "Although this wasn't my first kill, I still had never gotten over the feeling of it.". Sounds like a real war story !
26-02-2010, 12:44 AM |
Post: #12
DogieDude1234
Good news: I finished part 2 sooner than I thought I would. I posted it already. Let me know what you think.
---
I'm currently rather inactive on the forum. If you'd like to reach me, you can find me on: XFire: dogiedude1234; Steam: DogieDude; Skype: Well, you'll have to PM me for this one.
I may or may not be a member of ACE.
20-03-2010, 03:27 AM |
Post: #13
Kirilenk
I like the story can't wait for part 2
20-03-2010, 03:34 PM |
Post: #14
DogieDude1234
it's already finished, so is part 3, just scroll down to read them. thanks for the feedback.
---
I'm currently rather inactive on the forum. If you'd like to reach me, you can find me on: XFire: dogiedude1234; Steam: DogieDude; Skype: Well, you'll have to PM me for this one.
I may or may not be a member of ACE.
22-03-2010, 11:55 PM |
Post: #15
nmr01
dude thats so freking awesome from:d
---
25-03-2010, 02:19 AM |
Post: #16
DogieDude1234
This is the Part 2 of my original story. Again, feedback would be great, and I'm still open to adding more characters, so let me know if you want to be in it. This is another long read, but it may be better than the first.

Our worst fears were coming true. The tide of war was turning in favor of the Royals. In the two weeks since our victory at Sunset Showdown, Buccaneer Bay had been retaken by the Royals, Victory Village was being lost, and we had heard nothing from G3RARD0. Almost nothing seemed to be going right. For all we knew, G3RARD0 could be dead. However, D0N'TSH00TM3, Hineran, mjprotege, and I were still determined to rescue him, despite the fact that his chances lowered by the minute. There was just one problem... we had no idea how.

Luckily, our plan in taking Riverside Rush had been successful, and we were currently stationed there. The town was great, the people were friendly, and for a minute it seemed as though we could just forget about the war. That feeling didn't last long. One night we were awaken by our sergeant. We were to report to the Briefing Room immediately. So, we quickly got dressed and headed to the briefing. We could only figure it was something big due to the fact that they woke us up this early in the morning.

We arrived at the briefing and sat down. The Commander walked in, quietly and straight-faced. Something was wrong. Very wrong. After a few minutes of silence, he spoke. He explained that the men on both sides at Victory Village were dying by the hundreds every day. Our reserves could hardly keep up with the need for more and more troops. We all knew what he was about to say.

Despite our large distance from Victory Village, we were to pack up and head out in one hour. My heart sank. I had never really been bothered by combat before, but this time was different. I could just feel that something bad was going to happen. We then packed our gear and loaded on to the trucks. As we took off, I took one last look at the town. I had a dark feeling that I would never be returning here again. I shook it off, and soon enough, we arrived at our objective.

In the distance, I saw bright flashes and heard loud cracks and booms. I realized we were at some small settlement outside the town. We were told to unload our gear, so apparently, we were staying put for a while. I then decided to have a look around the "suburb". Most buildings were old and rundown, but one stood out. It had barred windows and steel doors. A man in what looked like a Royals uniform was staring at me through one of the windows. This was a jail.

Could G3RARD0 be inside? Surely not, but still, could he? A voice suddenly came from behind me. It shocked me so much that I actually jumped back and reached for my gun. The voice started laughing. Then, a figure suddenly appeared right in front of me, still laughing hysterically. Commandos loved going stealth on us Soldiers and Gunners, but none of us ever figured out how they did it.

The Commando introduced himself as nsdatac. He explained that he was acting guard Captain at the jail until the real one returned. I figured it was best to get to know him before I started asking questions about prisoners. At this time, I was joined by my other friends and introduced nsdatac. He gave us a tour of the area and then we settled in at our new barracks.

After a somewhat decent night sleep we awoke to the orders to go to our briefing. After guessing at a few buildings, we finally found the, uh, H.Q.? It was more like a rundown old shack with broken windows and tattered curtains. I noticed the curtains had bullet holes and blood stains on them. We sat down and were given the news. Early the next morning (after a reconnaissance run could be made) we were to be transported into the town. Our instructions were simple: secure the town and its surrounding areas by any means possible.

I now knew I had a time limit. After the briefing, I pulled nsdatac aside and gave him the information about G3RARD0 and asked him if he could find out if he was being held in the jail. At first he was hesitant, but gave in after I told him about G3RARD0 being kidnapped. A few hours later, as the sun was going down, nsdatac got my attention. He said that a prisoner by the name of G3RARD0 was being held inside. He then explained that due to the possibility of the Royals taking this area, all the prisoners were being moved to Seaside Skirmish that night.

We worked out a plan. He would put my friends and I on the schedule to assist in moving the prisoners from the jail to the trucks. We would make a scene that gave the impression G3RARD0 was resisting and then take him back inside. nsdatac would then give the order for the trucks to go ahead and leave while we looked for a way to get G3RARD0 into the system and into the National Army. The chances of it working were slim, but we had to try it.

So, when I returned to my barracks, I filled my friends in on the situation. When lights out came, we pretended to go to sleep and waited for nsdatac to come to get us. When he did, we snuck out of our barracks and over to the jail. Five trucks were lined up, ready to transport prisoners. We stood beside one of them, and did our best to appear as if we knew what we were doing.
Then came the prisoners. They were in single file lines, in shackles. Except for one. Under the new scraggly beard, I could see the face of G3RARD0. nsdatac used the excuse of G3RARD0 was an unruly prisoner, so he had to be shackled separate from the rest. Then our plan went into action.

Right on cue, G3RARD0 began thrashing around and we jumped to "subdue" him. We then "wrestled" him inside and watched as the rest of the prisoners were loaded up and the trucks took off. Quickly, we gave him a National soldier uniform, and a razor to shave. After a quick reunion, we took a breather. nsdatac assured us G3RARD0 would be in the system by morning. Our mission (however unbelievable) was successful. However, there was no time for celebration.

We still had a town to take.

Thanks for reading! Coming Soon: A National's War Story Part 3
---
I'm currently rather inactive on the forum. If you'd like to reach me, you can find me on: XFire: dogiedude1234; Steam: DogieDude; Skype: Well, you'll have to PM me for this one.
I may or may not be a member of ACE.
25-03-2010, 02:24 AM |
Post: #17
DogieDude1234
Part 3 is finished! Again, I'm always open to more characters and feedback is always appreciated.

Here it was. Go time. We were on the outskirts of Victory Village, loading up to help in the defense of our last main stronghold. If we failed, it was lost. All the sacrifice of the National Army and its soldiers would have been for nothing.

However, I wasn't going alone. I still had my friends, D0N'TSH00TM3, Hineran, mjprotege, nsdatac, and our newly rescued friend G3RARD0. As the truck took off, I looked at their faces, wondering if this would be the last time we would all be together. So many soldiers on both sides had already died in the battle we were about to fight. Hope escaped me. Despite my feelings though, I had to fight. This battle was going to be, quite possibly, the worst I had ever fought in. And what's more... I was in charge.

Over the course of the night, our unit's two lieutenants had been picked off by snipers. One didn't make it, and the other was being rushed to the nearest field hospital. Most likely, he wouldn't last the remainder of the day. Apparently there was confusion, so even though there were at least five men in our unit with a higher rank, I was now playing the role of lieutenant. As these thoughts raced through my head, I heard the shots. The truck squealed to a stop, somehow staying upright. I noticed holes were being torn in the cover of the back of the truck. Sniper fire.

I gave the order to abandon the truck. With great precision, my unit and I jumped from the back of the truck, stepping over our dead and wounded. As the medics attended to the wounded, I tried to get a hold on the situation. I could see around eight to ten royal commandos on a ridge across the field, firing furiously. We would have to take them out before we could move on. I told my radio man to call for air support. The call was responded with dead silence. Only now did I realize that we hadn't even made it into the town yet, where all our air support was. This was going to be a long fight.

To get out of this, we would have to fight commando on commando. Quickly, nsdatac grabbed his rifle and began shooting. Hineran and the other commandos in the squad joined in. As this was going on, I decided to find a way into the town. I pulled out my map and looked for any way in. From the topography on the map, it looked as though the town was on the edge of a lake, surrounded by raised cliffs. Of course it was...

By this time, our commandos had managed to pick off all the Royals across the field. I did my best to come up with a battle plan. I told my unit we were going to have to make our way on foot considering the driver of the truck was dead, and the engine had been shot out. I gave the order for the commandos to stealth and run out ahead to scout the area for Royals. They were to kill all they found.

As they did that, we soldiers and gunners grabbed what supplies we could salvage from the truck. Then we set out. I knew it was basically suicide to walk out in an open field with no protection, but it had to be done. The sun was beginning to rise, and I could get a glimpse at the tops of buildings in the town ahead. The walk was strangely peaceful with the sunrise over the town. It reminded me of the feeling I got at Riverside Rush, feeling as if the war could just melt away. Again, that didn't last long.

I heard the familiar engine sputter, the pop-pop-pop of the machine guns, the shouting of soldiers. It all fell silent as I turned slowly to see three Royal planes heading straight for my unit. Quickly, I returned to my senses. I heard someone yell to take cover, later realizing that voice had been me. The problem was, there was no cover to take. We would have to bring the planes down ourselves. Lead by mjprotege, the gunners opened fire, everyone focusing their fire on one plane. One down.

At this point, even us soldiers joined in. A lucky bullet hit the pilot. Two down.This was followed by a cheer of near victory... then panic. The plane was coming down right where we were standing. Run! Run away before it hits! I yelled inside my mind, but for some strange reason, my legs didn't move an inch. I was mesmerized by the sight. Then, a fiery explosion. Small fragments of the plane rained down.

I then looked up at the last remaining plane to see a somewhat familiar, yet still very strange sight. The pilot had a pistol drawn and shot the two gunners on his wings! The Royal pilot landed and hopped out of his plane smiling as if nothing had happened. We were dumfounded. None of us knew what to say until G3RARD0 stepped forward to greet our, umm, comrade? The Royal introduced himself as moosetang, a commando.

He explained that he had been working undercover for the Nationals when they attacked Victory Village. He said that he had gotten tired of being shot at by his own army, so he decided to come back to the Nationals and fight normally... lucky for us, he picked this time to do it. I was still a little weary of the situation, but moosetang had just saved my unit, so I had to be polite. One of our gunners, Hinelad (who just happened to be Hineran's brother) stepped forward with a spare National uniform. He gave it to moosetang, and we were off once again. After a few minutes, we came up on the cliff. The cliff that led to Victory Village. The cliff that led to the end.

We stopped and waited for our commandos to arrive. When they did, we all crowded around for one last greeting before we descended into battle. As I gathered my rope and my strength to repel down the cliff, an urgent radio message came over the air. The voice identified himself as LeSk8, a commando. He said that he and his unit were being surrounded at the church in the center of town. It was time for another rescue op. I looked to my left. I looked to my right. My first command. Everyone was depending on me. Here goes nothing...

Thanks for reading! Coming Soon: A National's War Story Part 4 (does anybody have any suggestions for part 4?)
---
I'm currently rather inactive on the forum. If you'd like to reach me, you can find me on: XFire: dogiedude1234; Steam: DogieDude; Skype: Well, you'll have to PM me for this one.
I may or may not be a member of ACE.
01-04-2010, 06:33 AM |
Post: #18
Lipbalm
i like it a lot
but the names of some characters just dont fit. no numbers please
---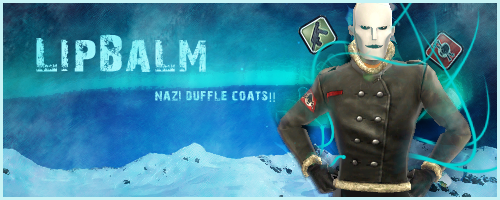 01-04-2010, 05:44 PM |
Post: #19
mrmotto
(21-02-2010 09:31 PM)

DogieDude1234 Wrote: ya, it is my first one. I'm still trying to work out the plot line of part 2, but when I get around to writing it, I'll put u in it. thanks for the approval
class. soldier
army.nationals
clothes. officiers clothes
personal.I like to work in groups and to lead my men to victory on the battlefield.
Can i please be in your story?
---
01-04-2010, 05:47 PM |
Post: #20
mrmotto
[quote='DogieDude1234' pid='1433832' dateline='1269480268']
Part 3 is finished! Again, I'm always open to more characters and feedback is always appreciated.

Here it was. Go time. We were on the outskirts of Victory Village, loading up to help in the defense of our last main stronghold. If we failed, it was lost. All the sacrifice of the National Army and its soldiers would have been for nothing.

However, I wasn't going alone. I still had my friends, D0N'TSH00TM3, Hineran, mjprotege, nsdatac, and our newly rescued friend G3RARD0. As the truck took off, I looked at their faces, wondering if this would be the last time we would all be together. So many soldiers on both sides had already died in the battle we were about to fight. Hope escaped me. Despite my feelings though, I had to fight. This battle was going to be, quite possibly, the worst I had ever fought in. And what's more... I was in charge.

Over the course of the night, our unit's two lieutenants had been picked off by snipers. One didn't make it, and the other was being rushed to the nearest field hospital. Most likely, he wouldn't last the remainder of the day. Apparently there was confusion, so even though there were at least five men in our unit with a higher rank, I was now playing the role of lieutenant. As these thoughts raced through my head, I heard the shots. The truck squealed to a stop, somehow staying upright. I noticed holes were being torn in the cover of the back of the truck. Sniper fire.

I gave the order to abandon the truck. With great precision, my unit and I jumped from the back of the truck, stepping over our dead and wounded. As the medics attended to the wounded, I tried to get a hold on the situation. I could see around eight to ten royal commandos on a ridge across the field, firing furiously. We would have to take them out before we could move on. I told my radio man to call for air support. The call was responded with dead silence. Only now did I realize that we hadn't even made it into the town yet, where all our air support was. This was going to be a long fight.

To get out of this, we would have to fight commando on commando. Quickly, nsdatac grabbed his rifle and began shooting. Hineran and the other commandos in the squad joined in. As this was going on, I decided to find a way into the town. I pulled out my map and looked for any way in. From the topography on the map, it looked as though the town was on the edge of a lake, surrounded by raised cliffs. Of course it was...

By this time, our commandos had managed to pick off all the Royals across the field. I did my best to come up with a battle plan. I told my unit we were going to have to make our way on foot considering the driver of the truck was dead, and the engine had been shot out. I gave the order for the commandos to stealth and run out ahead to scout the area for Royals. They were to kill all they found.

As they did that, we soldiers and gunners grabbed what supplies we could salvage from the truck. Then we set out. I knew it was basically suicide to walk out in an open field with no protection, but it had to be done. The sun was beginning to rise, and I could get a glimpse at the tops of buildings in the town ahead. The walk was strangely peaceful with the sunrise over the town. It reminded me of the feeling I got at Riverside Rush, feeling as if the war could just melt away. Again, that didn't last long.

I heard the familiar engine sputter, the pop-pop-pop of the machine guns, the shouting of soldiers. It all fell silent as I turned slowly to see three Royal planes heading straight for my unit. Quickly, I returned to my senses. I heard someone yell to take cover, later realizing that voice had been me. The problem was, there was no cover to take. We would have to bring the planes down ourselves. Lead by mjprotege, the gunners opened fire, everyone focusing their fire on one plane. One down.

At this point, even us soldiers joined in. A lucky bullet hit the pilot. Two down.This was followed by a cheer of near victory... then
---
---